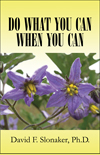 Do What You Can When You Can
by David F. Slonaker, Ph.D.
INTRODUCTION
The life events you are about to read are based on real life happenings with some names, places and particulars changed to protect the innocent and the not-so-innocent. Event settings are in the laboratory, on the farm, in the counseling session, at the lake, in the kitchen, in the courtroom, at the hospital and in the forest. The events vary from the invention of super glue to the collapse of a 500 foot television tower- from a psychologist who learns from a retarded patient to a minister who takes out a murder contract on her spouse. These and eighty other events exemplify the theme that the author introduces in each chapter. This diversity of settings allows a great variety of readers from dissimilar backgrounds to identify with them.
How would you approach each of the real life events in this book from a Christian perspective? I suggest the reader explore the central theme of each chapter and then think of examples where this theme applies to events in his or her own life. Readers can then discern if they acquired the LESSONS LEARNED in each chapter from their own experiences. LESSONS LEARNED will be useful in private life and at the workplace- especially organizations and the world of business management. This book is designed to help the reader become a more effective Christian.
The chapter, "You Are Your Own Worst Enemy" reminds readers that we are formidable foes to ourselves. In the chapter entitled, "God Reliance: Prayer 101", the reader will learn that we need to pray the same prayer for our enemies as for ourselves. Chapter 11 invites the reader to do what you can when you can. Three precautions are introduced: 1. Not doing what you can and should, 2. Trying to do what you cannot attain, and 3. Trying to do at the wrong time under unfavorable conditions or before sufficient resources are mustered. In the final chapter the author invites the reader to conduct a self-examination.
Because persons' names are on the church register does not mean they will automatically enter God's kingdom. Jesus said it first in Matthew 7:21, "not everyone who says to me, 'Lord, Lord', shall enter the kingdom of heaven." Numerous scriptural quotations from the Revised Standard Version are sprinkled throughout the text. Read on to learn a fresh, new interpretation of what this scripture means to Christians and would-be Christians.